NEED HELP EVICTING A RESIDENTIAL TENANT FOR NON-PAYMENT OF RENT?
The Law Offices of Stephen K. Hachey, P.A. will file an eviction lawsuit for flat attorney fees of $395, non-inclusive of the costs outlined below.
SERVICES INCLUDED:
1. The preparation and filing of:
the complaint for eviction for possession
the civil cover sheet
a proposed summons
a non-military affidavit with your signature
2. Providing the clerk-issued summons to a process server or the sheriff for service
3. Filing of the affidavit of service, and, if the case remains uncontested
4. Preparation and filing of a motion for default and motion for final judgment, and
5. Preparation of a cover letter and proposed order and furnishing the same to the Court.
FEES & COSTS*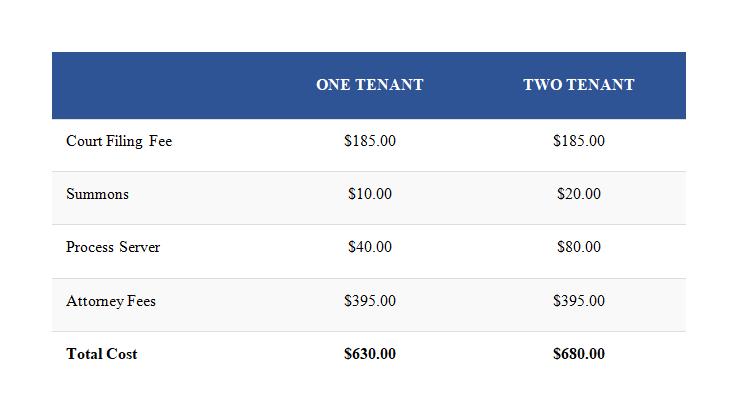 If you choose to sue for back-rent or damage to the premises, please contact us to discuss fees and costs. If this becomes a contested eviction process, applicable attorney fees and other costs will apply.
WRIT OF POSSESSION
A Writ of Possession may be necessary if your Tenant refuses to leave the property after the Court issues a final judgment in your favor. The Sheriff's fee for a writ of possession is $90 for the first defendant and $40 for each additional defendant.
NOTICES: 3-DAY FOR PAYMENT OF RENT, 7-DAY CURE BREACH OF LEASE, NON-RENEWAL OF LEASE
Our office will provide you with a free template of the 3-day notice, which you are welcome to use and post yourself. If you would like our office to complete the 3-day notice for you and have a process server post it, our office charges $100 when purchased with your eviction. A Notice to Cure Breach of Lease and a Notice of Non-Renewal can be drafted and posted for you starting at $150, including the posting fee. *Costs listed are for Hillsborough County only. Costs may vary by county.
Call 813-549-0096 TODAY for a FREE, No-Obligation Consultation
Request a FREE Consultation
Phone & Fax
Phone: (813) 549-0096
Fax:
(813) 377-4968
---
Address
The Law Offices of Stephen K. Hachey, P.A.
15619 Premiere Drive Ste 104A
Tampa, FL 33624 (By Appointment Only)
---
Directions